Bianca Hayes is a datable character in the sim dating game: Chrono days created by Pacthesis. She is a doll trapped within Hayes Mansion and is later accessible if you play the piano correctly within the mansion. She is the only female that is datable in the game.
Appearance
[
]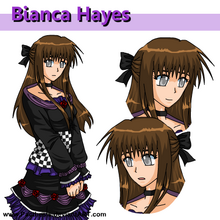 Bianca has long brown hair with a black ribbon and glazed eyes. As a doll, she wears upperclass and sophisticated clothing. Her dress consists of purple lining and black with a black and white pattern around the waist.
Personality
[
]
Bianca is very polite as she treats visitors as 'guests'. She is unable to eat anything as she is a doll however she appears to be constantly questioning emotions and humanity for her curiosity about humans. As Saige visits her more often, Bianca begins to open more towards her and begins offering kind offers to her.
Sexual Preferences
[
]
Bianca has very taboo sexual preferences compared to the other dateable characters. She can be found remarking several times things like, "God that dog was the best in bed." and "Father used to force the cat into my gaping vagina."
Background
[
]
Ending
[
]
The player and Bianca sit on the floor, and discuss your imminent mortality. Bianca doesn't forget to remind you of your genetic inferiority by telling you that you will inevitably die, and she will remain, watching your final breaths, smiling.