Appearance
[
]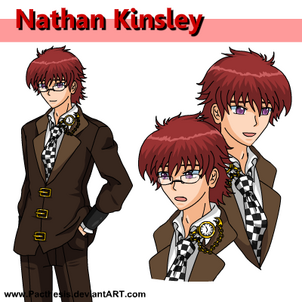 Nathan has red hair and purple eyes. His outfit consits of a black and white tie, brown coat and he also wears glasses.
Personality
[
]
Nathan is very gentleman like. He is very sweet and cares deeply for Saige.
Background
[
]
Nathan is from 100 years in to the past. He is a clockmaker working in his uncles old shop. 
Nathan was at the train station when Saige fell from the sky. 
QuoteEdit
[
]
Clock are very special. Each clock is special in its own individual way and each one needs be treatted with much consideration and care.
Trivia
[
]
Nathan's father was a tailor while his uncle was a clock maker following in his uncle's footsteps
His eyes are seen as purple but also blue-ish grey in some cases
Nathan was very lonely before Saige showed up
Nathan was rated first by Amy herself as character she'd "like to get in bed with".
Ending
[
]
Nathan and Saige have a little boy named Eric he is red head like his father but has eyes like his mother.